How to increase direct hires within your organisation
Pubished 5th November 2018
---
It's forecast that the use of artificial intelligence (AI) in recruitment is expected to rise to 62% by 2019, and whilst LinkedIn is said to be the number 1 source of quality hires, three-quarters of businesses are still struggling to find relevant candidates.
As the most sought after talent is available on the job market for as little as 10 days, organisations must ensure that every sourcing channel is utilised effectively, to attract the candidates that they are fiercely competing for. Competitive advantage is key – and can only be obtained through a comprehensive direct hiring strategy.
The first objective for any business looking to adopt a direct hiring strategy is to understand the future outlook on jobs. AI is disrupting the labour market at a rapid pace, with a third of jobs at risk due to automation, and businesses therefore need to plan for what their workforce might look like in a few years' time. Those who purchase sourcing tools purely for the 'here and now' could incur unnecessary recruitment costs if these resources become obsolete in the near future. Organisations therefore need to understand not only the type of roles needed at present, but also in the future.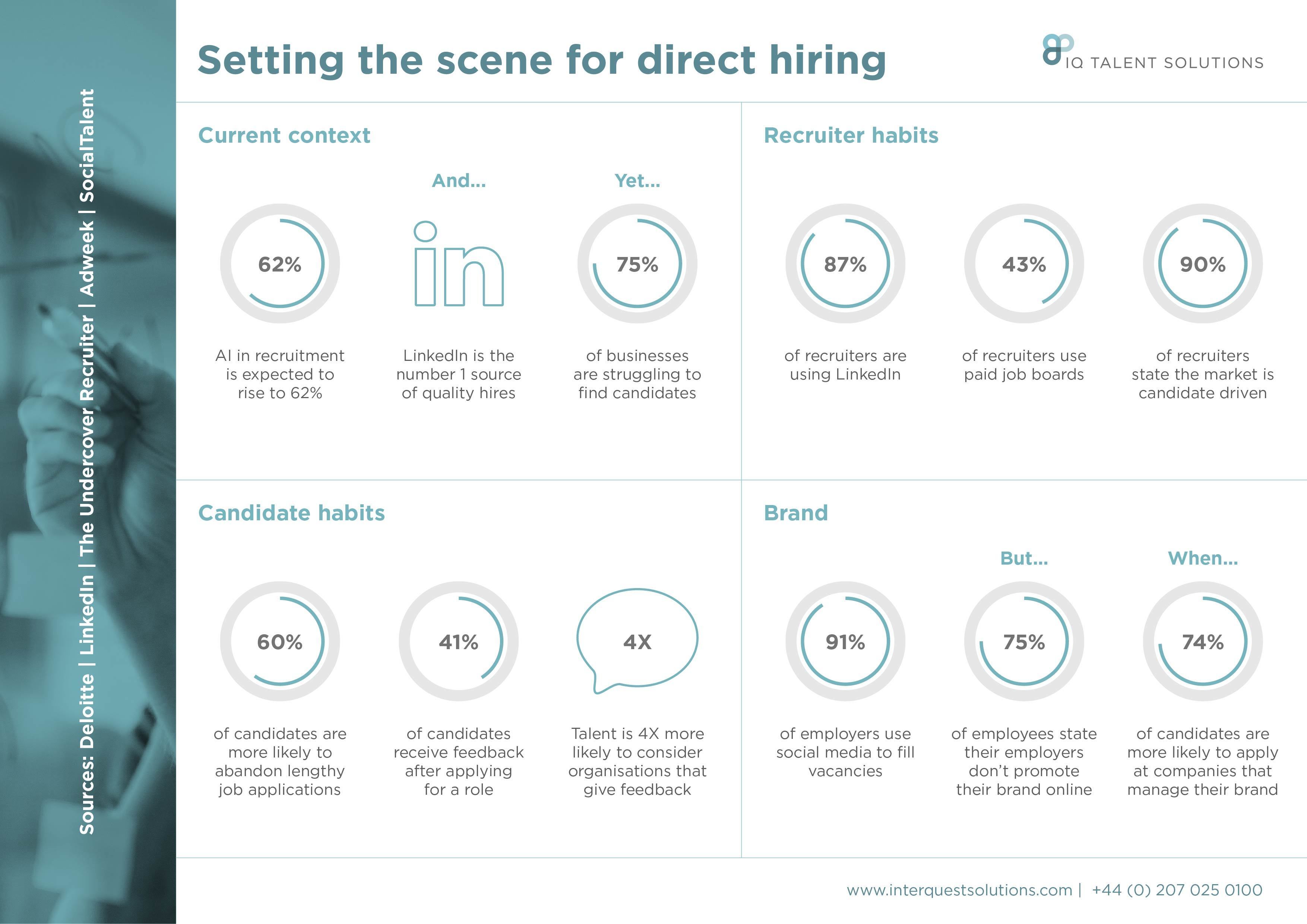 Once an organisation has an understanding of their future requirements, an analysis of internal processes can help to understand the strengths and weaknesses of a recruitment function. This allows for resources to be concentrated on areas within the hiring process which need improvement. In particular, analysis on the internal workforce is critical, with 77% of executives identifying people metrics and analytics as a key priority within their business.
The process for identifying and nurturing talent both inside and outside the business becomes ever more important as social hiring tools continue to dominate hiring strategies, with 87% of recruiters using LinkedIn. As recruiters become reliant on a single method of sourcing talent, questions are raised over the training of recruitment professionals. Organisations should benchmark their team's sourcing competencies and understand whether further training is required to improve direct hiring, challenging their recruitment teams to use alternative methods to find candidates over and above those who use a LinkedIn license.
The use of advertising as a sourcing channel is staying relatively static, with only 43% of recruiters using paid job boards on a regular basis. However, 91% of employers are now utilising social media to fill vacancies, which is interesting as 75% of employees state their employers don't promote their brand on social media. Organisations need to ensure their teams are carefully crafting their job posts and social content in order for their employees to share with their networks, organically promoting their culture and brand online. Crucially, 74% of candidates are more likely to apply for a job if an organisation actively manages its employer brand.
Once a candidate has landed on an employer's website, it's their responsibility to ensure the candidates experience is positive. A simple and quick method of applying for a job role to reduce dropouts is essential, as 60% of job seekers are said to abandon job applications midway through the process due to its length or complexity.
In addition, statistics show that only 41% of candidates receive feedback after applying for a role. Businesses need to ensure candidates are communicated to throughout the process as talent is 4x more likely to consider an organisation if constructive feedback is offered. Companies should analyse their application process and track their candidate journey to understand where applications are being lost.
A strategic approach to direct hiring can greatly increase an organisations ability to hire the best talent at the right time. With 90% of recruiters stating the labour market is now candidate driven, it is vital to provide an exceptional service. Candidates have never had more choice, competition for talent has never been fiercer and the consequences of lost talent have never been greater.
---