InterQuest announces the appointment of Greg Coleshill as Chief Operating Officer & Michelle Khan as Director of Risk
Pubished 24th January 2023
---
Following another year of excellent performance and growth of the Risk, Regulation and Compliance business, InterQuest is delighted to announce that Greg Coleshill has been promoted to Chief Operating Officer of our specialist staffing function effective immediately. Greg will focus on working with our UK Managing Directors to ensure the business embraces new technology, opportunities and best practice to drive efficiency and improve NFI.
Greg has spent the last 15 years with InterQuest building a strong reputation with banks, financial services, and fintech clients. Greg has consistently delivered strong performance through his leadership of the Risk team and most recently oversaw expansion to Amsterdam in 2022. In addition, Greg has developed several partnerships with clients in the UK, EU, and US to deliver search mandates for senior talent and provide solutions to programmes of work.
Having been a pivotal part of the Risk team's success, Michelle Khan has also been promoted to Director and will now lead the Risk, Regulation and Compliance business.
Michelle joined InterQuest in September 2018 and has been a key part of the team ever since. Michelle consistently demonstrates our SPIRIT values and is a true sales leader. During both 2021 and 2022, Michelle has been able to consistently win new business, for both Risk and the wider group, whilst also recruiting, training, and developing new high-performing consultants.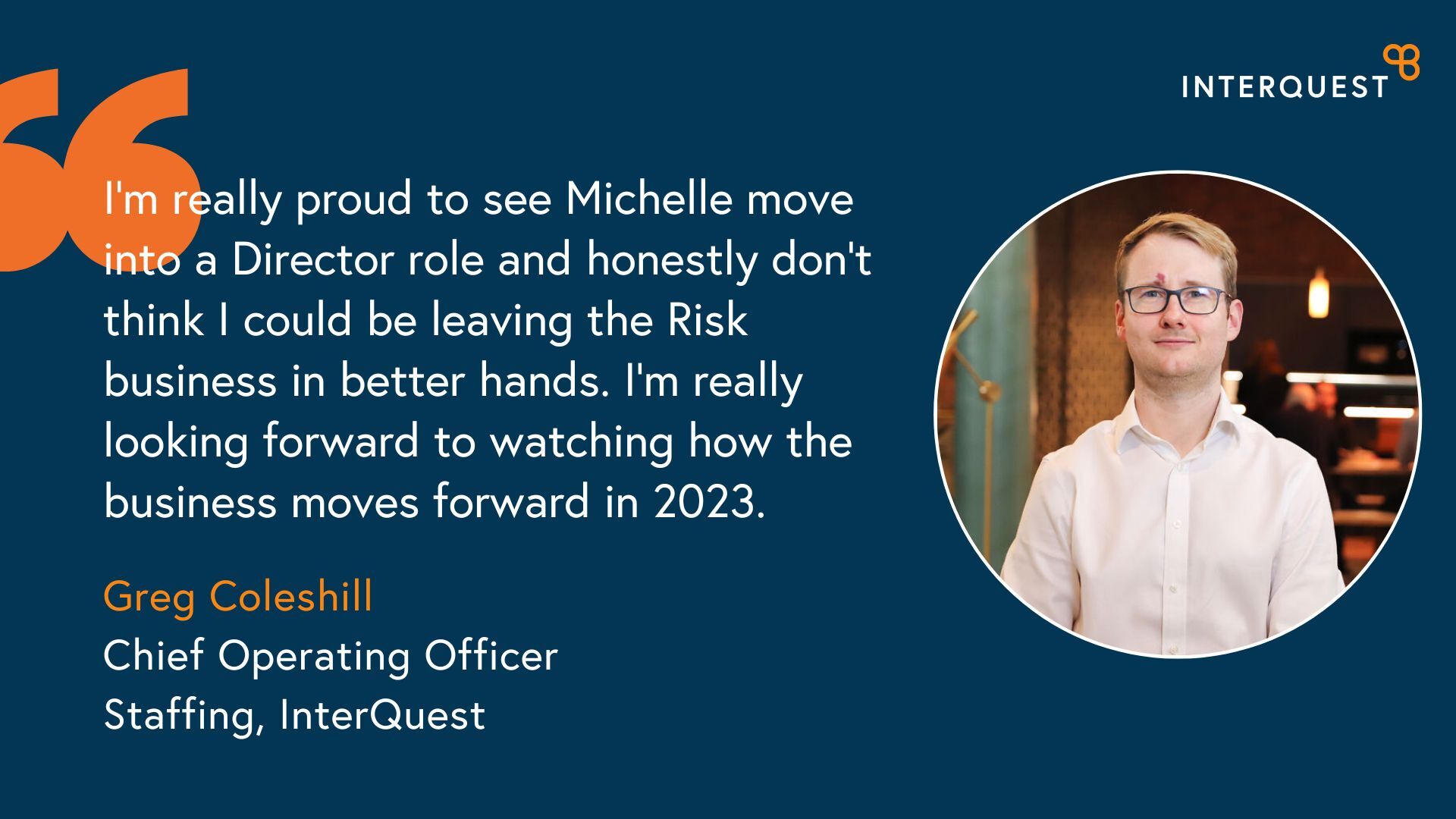 Congratulations to both Greg and Michelle!

Get in touch:
Are you considering a career in recruitment or eager to make that next step within the industry? Learn more about our Risk business here and reach out to Michelle to find out what opportunities are available.
About InterQuest
We started trading in 2001. From the very beginning, we've only recruited technical skills. It's what we do. It's what we're best at. As technology has exploded, we've been well-positioned to support the shift in the market and respond effectively to its increasing reliance on niche talent. This has meant that our business has grown organically at an impressive rate.
Through continued investment in our operations, we've been able to keep up with this dynamic fast-paced market, becoming increasingly specialist along the way, always focused on those niche skills that businesses need the most in the digital age. Over the years, periodic strategic acquisitions have simply accelerated our organisational growth and enhanced the value of our operations.

---