A look inside Moneysupermarket Group's state of the art offices
Pubished 20th November 2019
---
Three years ago, Moneysupermarket Group embarked on a bold journey to find talent… starting with their mobile team, MSMG began to move their tech, digital and product operations from their head office in Ewloe, Wales, to the largest tech hub outside of London, Manchester.
Starting out in their office in Spring Gardens in 2016, MSMG would secure an additional 3 sites; 2 in WeWork and 1 in Spaces to support their rapid growth, before acquiring space in No 1 Spinningfields. Spinningfields was to be the site of their new office space and the future home to their product engineering operations, but it would take the next year and a half to build. Work was being carried out for MSMG's vision, the business hit a landmark 100 hires in the summer of 2018, the proof of MSMG's bold investment had been achieved, and a year later, it was time to bring the households together.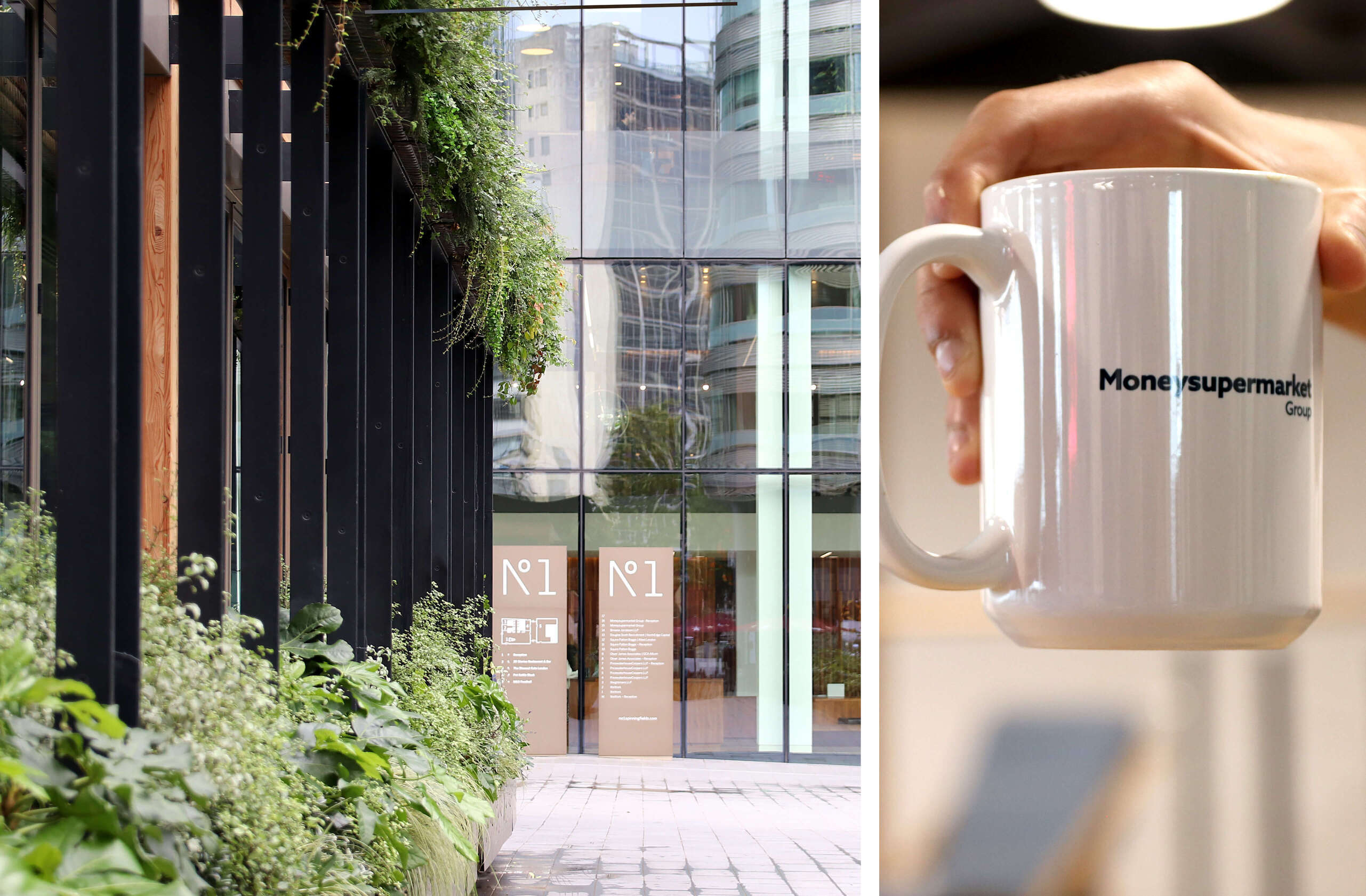 We're immensely proud to have supported the transition and growth of MSMG in Manchester. So when we were invited to visit their brand new office, we couldn't wait to see what they'd built and couldn't miss an opportunity to take along our camera.
As you catch the elevator to the 16th floor of No. 1 Spinningfields and enter Moneysupermarket Group's state of the art office, your eyes are immediately drawn to the two-story 'Totem'; a 2m wide and 6.5 metre tall, digital display in the centre of the office and in the centre of the spiral staircase that connects the lower floor. There's something special and symbolic about the fact you start from the top.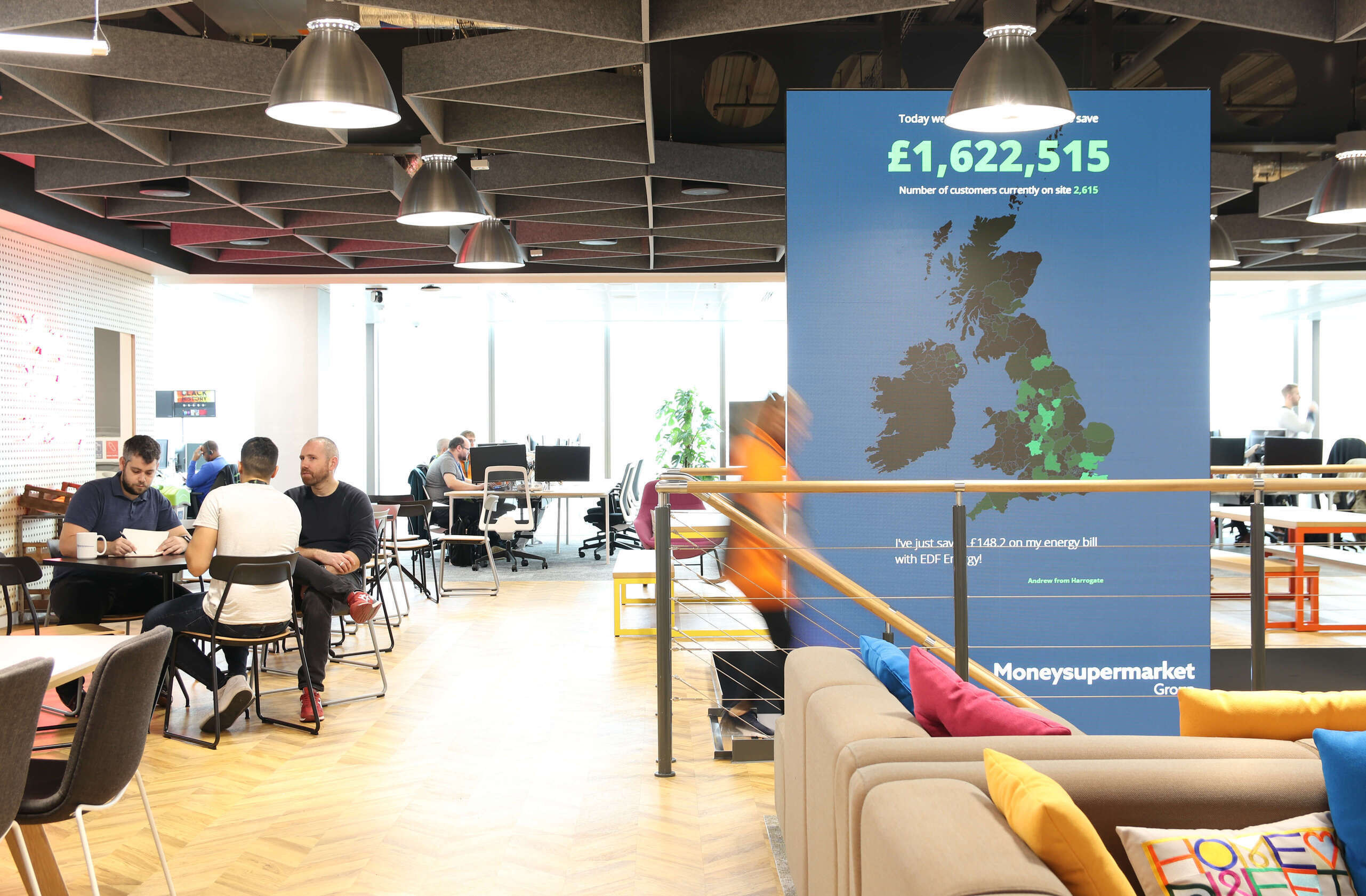 The, affectionately named, totem hosts a live feed of savings the company has helped households recuperate each day, as well inform on great diversity and CSR initiatives. Constantly updating, the display will also tell you how each of MSMG's products are performing (in terms of savings for households – there is a theme here) and, because this office is a temple of technology, the totem even provides a gateway to each of MSMG's other offices in London and Ewloe. The totem, complete with tracking software, acts as a hearth for company-wide floor briefs and team 'all hands' meetings.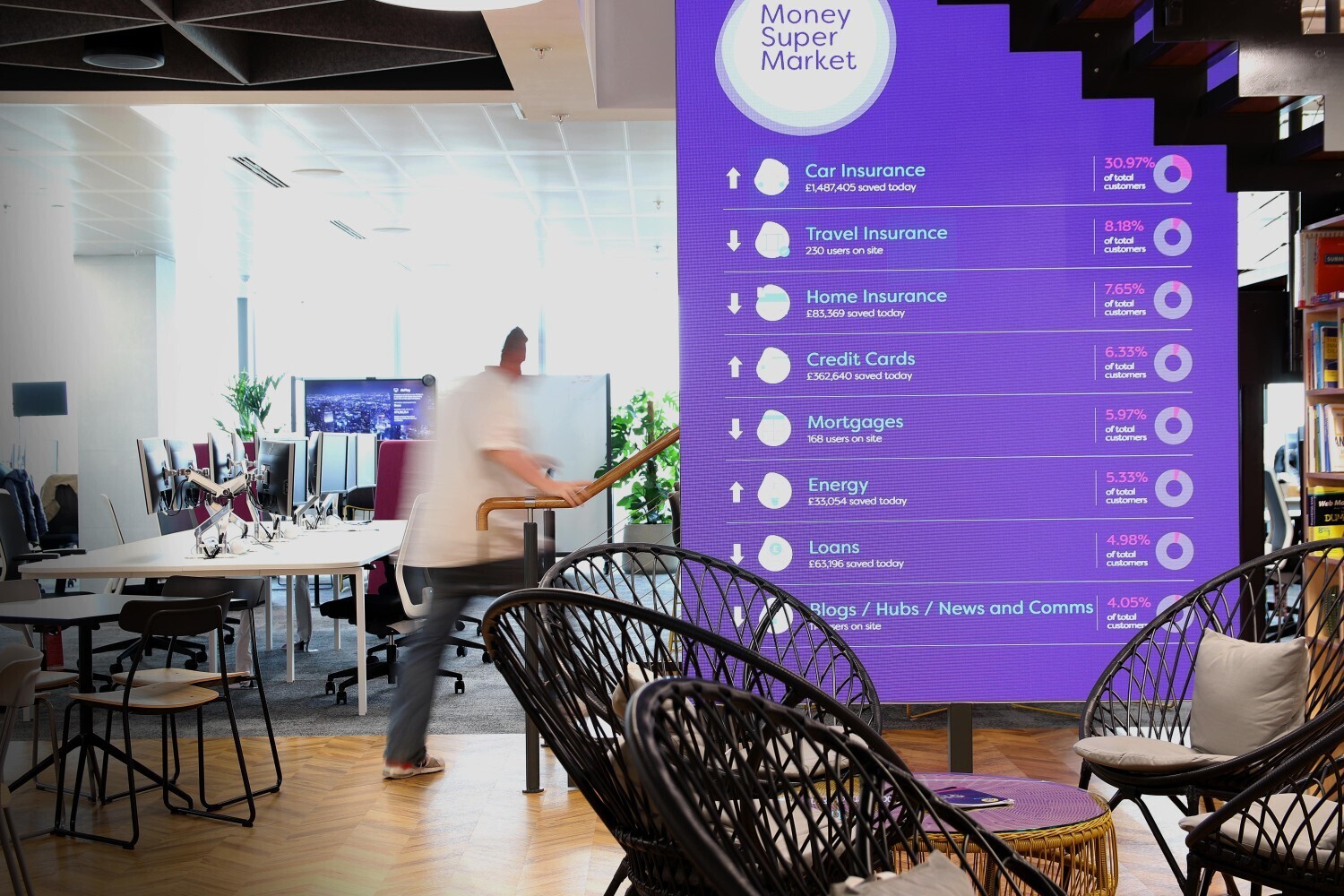 When you manage to take your eyes away from the totem, you notice all the things that have become a staple for tech businesses over the last few years; the fully stocked kitchen with fancy coffee maker to provide luxury caffeine on tap for those that indulge; breakout areas and lounging sofa's with cushions that read 'home sweet home' which are as much about creating great working spaces as they are about breaking away from work… pods and glass meeting rooms themed around Manchester's most iconic styles and people with binary decal (if you speak binary, it reads… you guessed it: 'Helping households save money') are all right at the centre of this utopia for talent that is unmistakably designed to foster collaboration, innovation and quite frankly, work-life happiness.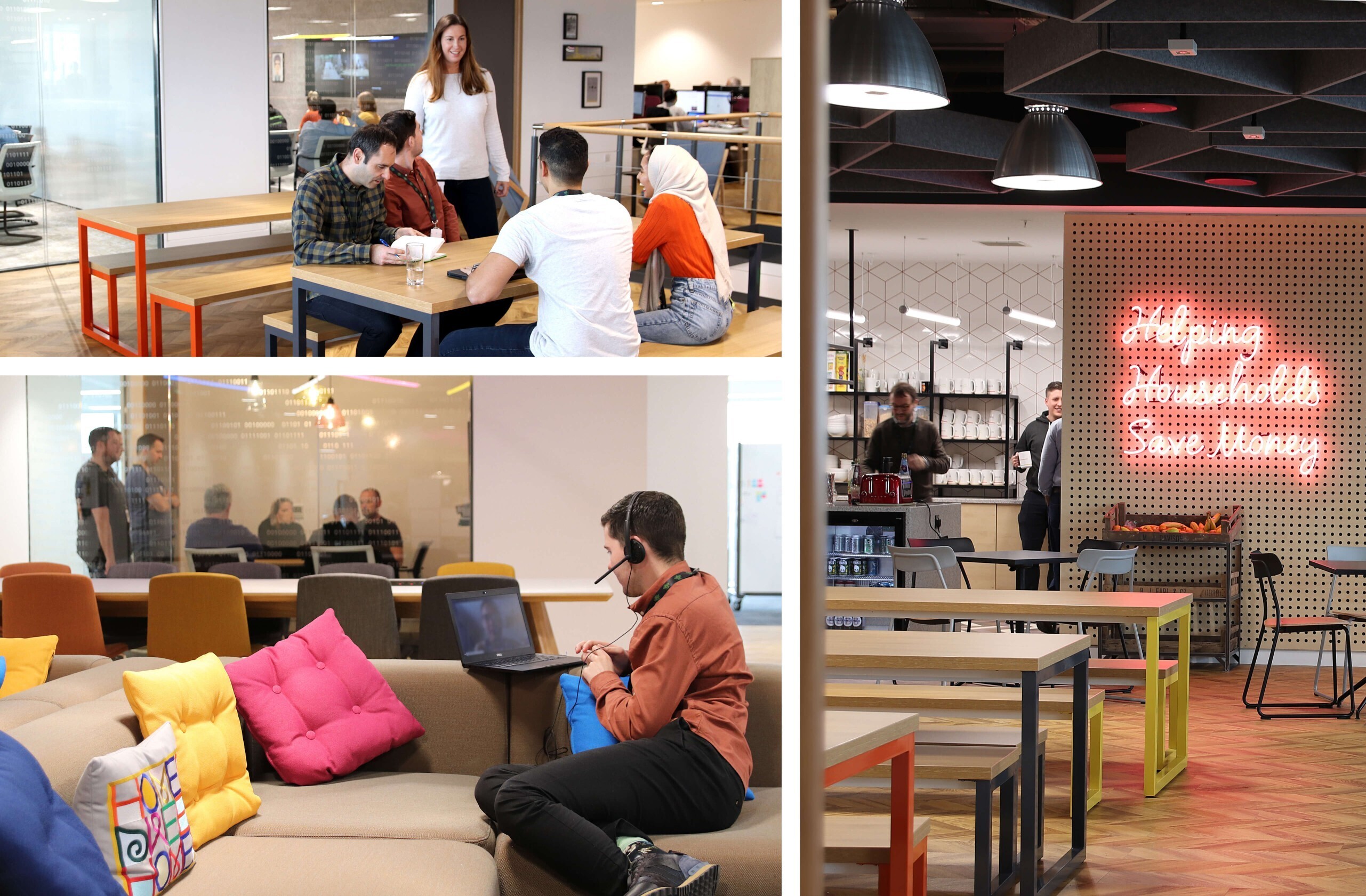 Out from the centre, banks of desks (standing is optional) line around the building, framed by the panoramic city views. Every inch of the office is a tool to help people work. The walls are covered with user flows and project timelines. The place itself feels alive, and it's reflected in how people work. There is a continuous flow of stand-ups being held throughout each day in all corners of the office. Need to take a private phone call? There's a booth for that. Need a meeting room to host a larger than normal meeting? The 'Wonderwall' can be moved aside so Liam and Noel (two of the meeting rooms) can once again work together. Need a change of scenery? Sit wherever you like, it's a hot desk environment here. Moneysupermarket Group has created a space that not only directly reflects their reason for being and their culture; but ensures that the people working in it are afforded every tool to help accomplish it.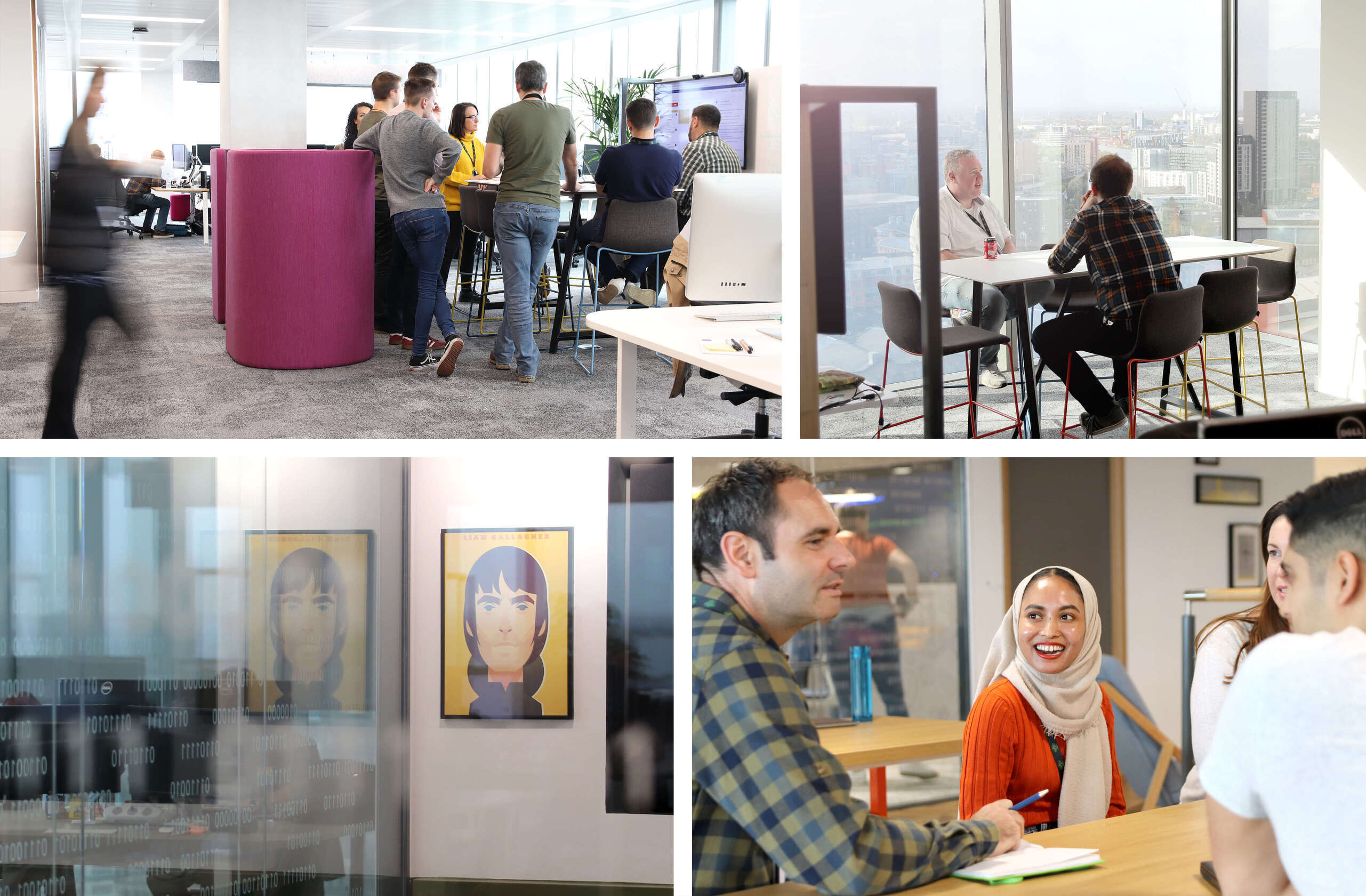 If you want to know more about the project happening at Moneysupermarket Group and the opportunities that are available there, please do get in touch: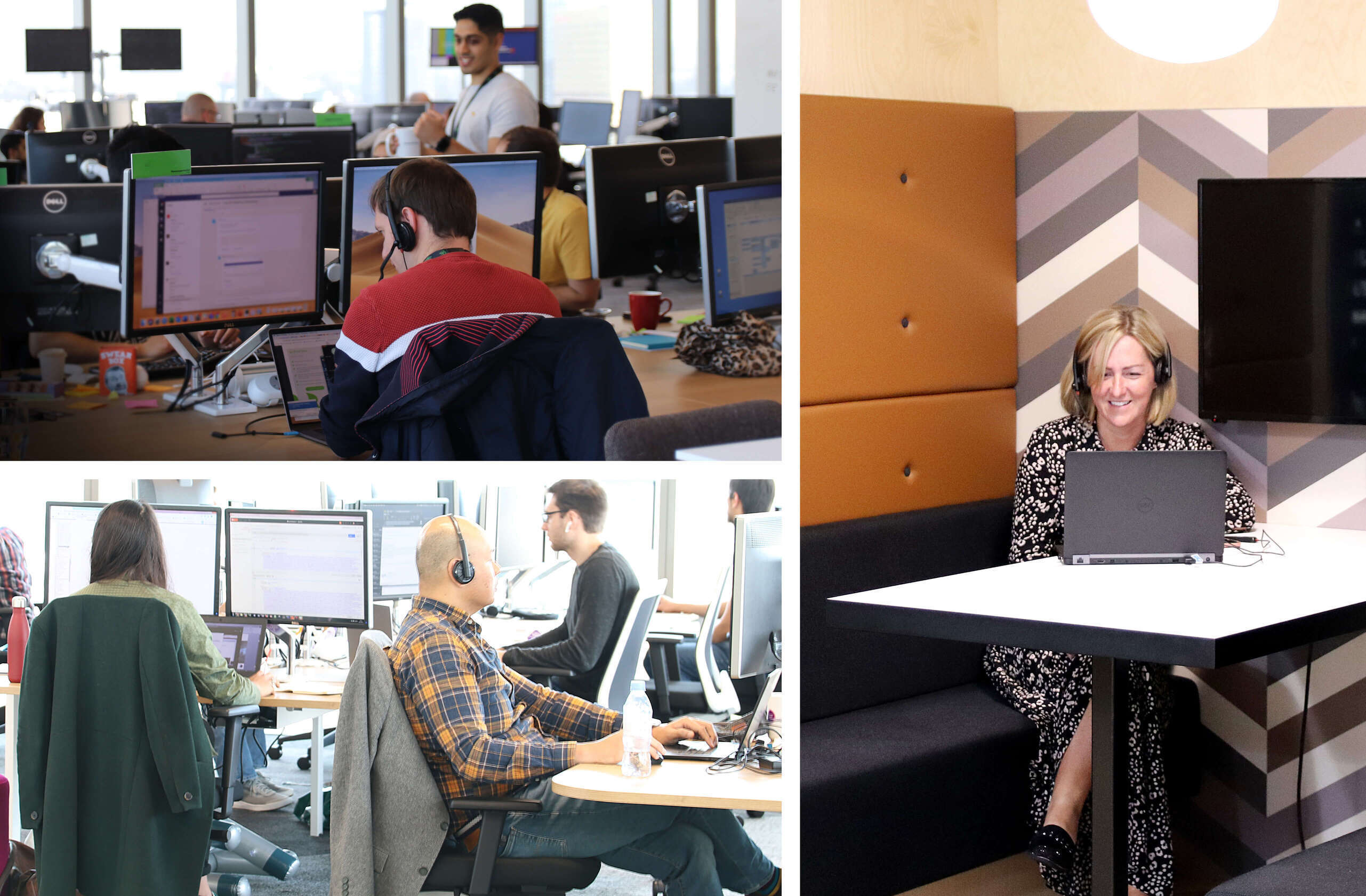 Rob Sugden
0161 237 0033
07748 964 929
---