If you didn't already know, it's Mental Health Awareness Week, and, yes, it's Friday and I'm still talking about it.
526,000 workers suffer from work related stress, depression or anxiety (new or long-standing) in 2016/17 (source: www.hse.gov.uk/statistics/regions)
12.5 million working days lost due to work-related stress, depression or anxiety in 2016/17 (source: www.hse.gov.uk/statistics/regions)
Less than a quarter (24%) of line-managers have had mental health training (source: www.wellbeing.bitc.org.uk)
15% of employees that disclosed a mental health issue faced disciplinary procedures, demotion or dismissal (source: www.wellbeing.bitc.org.uk)
1 in 6.8 people are experiencing mental health problems in the workplace (Source: www.mentalhealth.org.uk)
Evidence suggests that 12.7% of all sickness absence days in the UK can be attributed to mental health conditions (source: www.mentalhealth.org.uk)
Better mental health support in the workplace can save UK businesses up to £8 billion per year.
Yesterday, InterQuest hosted a breakfast forum with guest speaker David Beeney. David enjoyed a successful career in media for 36 years but suffered in complete silence with his mental health issue until May of 2016 when he 'outed' himself.
David always wanted to work in magazines and newspapers and despite hiding his 'anxiety disorder' by the age of 35 he had secured his goal of becoming the MD of a daily regional newspaper. He spent the last 13 years of his corporate career at Auto Trader where he was one of their Commercial Directors.
Alongside his media career, he started training as a mental health counsellor eight years ago and has been qualified for the past three years. He does his counselling for the charity Mind on a voluntary basis.
Speaking in public is not easy for David; he has spent over 30 years avoiding such meetings for fear of a panic attack. However, he was so humbled by the feedback he received when he first shared his personal story, he has decided to keep on sharing it to help employers understand how to help create stigma free environments that drive employee energy.
We were joined by representatives from organisations across a variety of sectors who were inspired by David's talk around his own story, but also what needs to happen in the workplace to drive mental health awareness:
1. The tone must be set from the top
It's paramount that the 'top' gets it, and gets involved. Forum members in the room spoke of sessions in the workplace where their board was not represented at all, and others talked of experiences where Chief Executives not only took part, but spoke of issues with his own mental health. It's unsurprising that the latter organisation seems to have far more employee engagement and a better wellbeing policy.
2. Line Manager education
The key point here to mention is that managers are not expected to treat or 'fix' a team member who is suffering from poor mental health. The education should be around how important it is to build a close relationship with your team members and what's important to them outside of work. Spend time speaking about things that aren't work, and engage with them so they feel supported. If they seem like they have low energy levels then ask them – there's probably something wrong.
3. Think and talk about mental health as we do about Physical Health
David mentioned a number of thought provoking things. Firstly, if someone has a personal trainer and spends £100 per hour with them, it's likely they'll mention it to you – it seems positive to be looking after your mental health. On the contrary, it feels less likely that someone would volunteer information about counsellor or therapist because of the stigma associated with poor mental health.
Try googling 'physical health' and 'mental health' and looking at the images associated: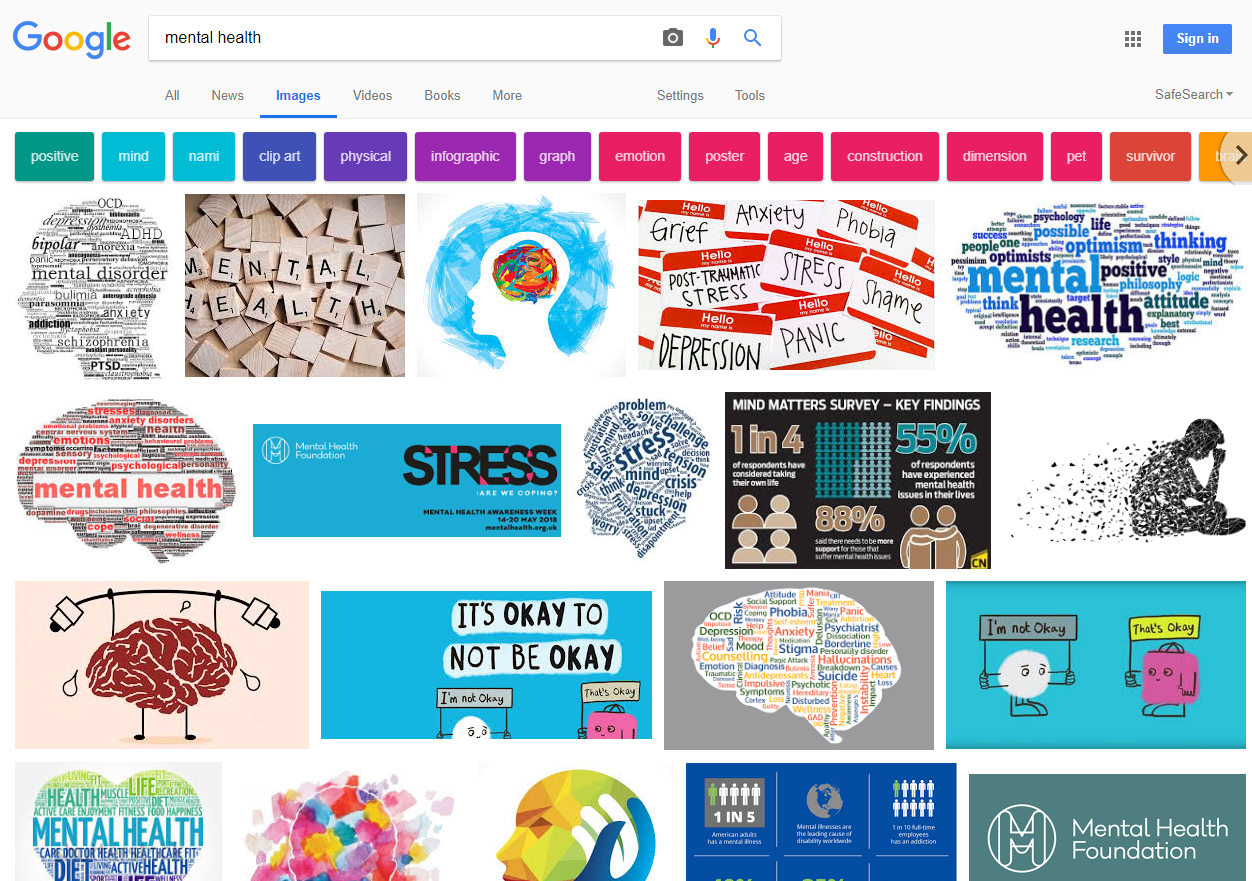 The positive and negative connotations are obvious, but why? There's no use having one without the other, and both physical and mental health are equally as important to maintain.
4. Let's talk about energy levels
Changes in someone's mental health aren't always obvious, however a strong sign can be someone's energy levels so do keep an eye on that. More importantly there is still a stigma attached to talking about mental health: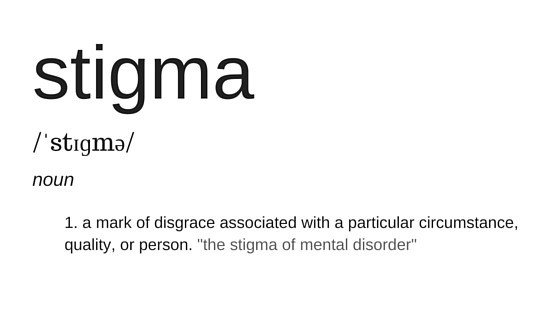 Think about the language you are using. Talk about energy in the workplace, and enthusiasm. Teams that perform with high energy perform better.
I quoted a number of statistics at the beginning of this blog, but David's talk taught me that whilst all figures are supported by evidence, it's unlikely that they are an accurate representation of what's really going on because so many of us are frightened to talk about or admit to having poor mental health.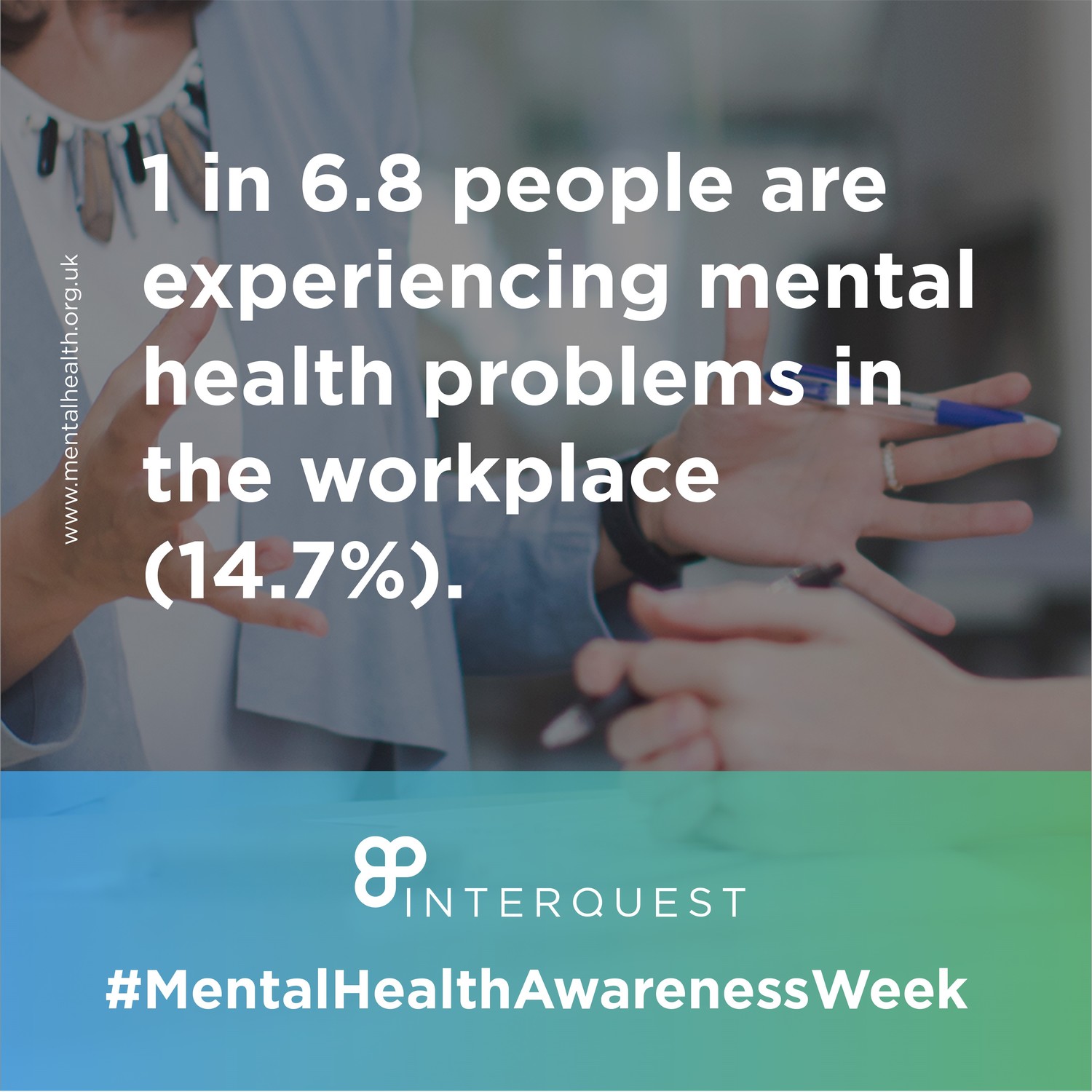 Whilst this figure is supported by evidence, everyone has mental health, and will suffer from a mental health issue at some point, just like someone in optimal physical health will get a cold now and again. It's important to remember that mental health is a constant.

The forum was very thought provoking and emotional at times, and many attendees opened up about their own experiences with poor mental health. We came out of the forum feeling like we had built strong trust with each other, and this is how we should be engaging at work for the sake of everyone's well-being. We shouldn't need a #MentalHealthAwarenessWeek to be compassionate.

David founded BreakingTheSilence.co.uk and consults with businesses on how they can improve mental health awareness in the workplace. If you would like further information on how Breaking the Silence can help your business then please let me know by emailing me at georgia.chuter@interquestgroup.com.
Written by our Customer Success Partner, Georgia Chuter